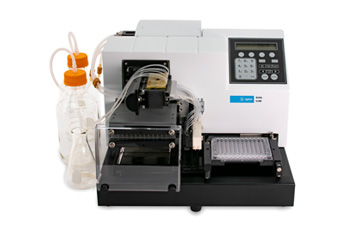 The EL406 Combination Washer Dispenser offers fast, full plate washing along with three reagent dispensers in one, compact instrument. Its multiple capabilities include washing and dispensing for standard assays, plus biomagnetic separation and vacuum filtration protocols. The Dual-Action™ manifold optimizes washing for loosely adherent cell monolayers, while the patented Ultrasonic Advantage™ helps prevent blockages in the manifold tubes before washing, to reduce assay failure. Syringe pump and peristaltic pump dispensers each offer unique advantages, and the EL406 offers both, along with superior plate washing, on a single platform - making the EL406 a workhorse for your laboratory.


applications
Applications for the EL406 Washer Dispenser run from simple dispense operations to full-scale automation of liquid handling steps in preparation for downstream processes. Here are a few important applications of the EL406.
Bead washing
Cell washing /media exchange
Bulk reagent dispensing
Cell seeding

These are just a few examples of the many important applications for EL406. Visit our Applications page to see more.
BioTek Field Applications Scientists (FAS) and Product Specialists provide unparalleled scientific support, assisting with experimental planning and assay optimization on BioTek's instrumentation and software. Learn how they can help move your science forward… faster!